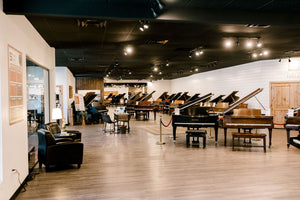 Our History
Stilwell Pianos was started in 1956 by my grandfather, Ralph Stilwell RPT. Grandpa Ralph was always interested in musical instruments and after the war, quickly found his niche as the "piano guy" in Southern Illinois (Decatur to be exact).
During his career, he served on the Piano Technician Guild's board as well as helped design pianos for Yamaha in Japan. In the early 1980s he was inducted into the Piano Technician Guild's hall of fame and was flown around the country giving seminars on the art of piano tuning and repair.

Before Grandpa Ralph passed away, I graduated from The American School of Piano Tuning and started my career as a piano technician in Phoenix Arizona. I soon took over the business and spent many years servicing Stilwell Pianos client's pianos in their homes, churches and schools.
I have since retired from in home work in order to focus on the showroom as well as run my new side project – Piano Technician Academy. The PTA is the first and only completely online piano tuning school in the country and is picking up steam quickly. For more information on the school check it out here.
Where Our Pianos Come From
We get our pianos in an number of different ways. In fact we have an employee (Nathan Cleland) whose entire job is to buy pianos for us! We also get about 6-8 calls a day from people trying to sell us their pianos. Because of our involvement in the Piano Technicians Guild ( I am a member of our local chapter) and the age of our family business, most of these sellers are referred to us by people we know in the industry.  In addition to "call-ins" we also work with a bunch of buyers, real estate companies, estate sale companies, movers, flippers, teachers and technicians who regularly provide us with top notch pianos. All pianos are gone over meticulously before we purchase them and put them in our service rotation (the process the pianos go through before m are listed for sale). 
If for some reason, we do not have a piano that you LOVE, we are more than happy to help you find it. It is very important to us that your piano is everything you were hoping for. People typically keep their pianos for many years and the last thing we want is to sell you a piano that you are just "O.K" with. For that reason, we don't push any sale on our customers and we are more than happy to walk away from a sale if we feel you are not completely happy with your decision.   If you are just looking for some free advice or a piano technician referral, please feel free to call, text or email us. We are here to help!
Meet Our Team
Use this text to share information about your brand with your customers. Describe a product, share announcements, or welcome customers to your store.